Sections
Text Area
Apply to the HKUST Postgraduate Programs by taking the following simple steps:
For the following programs, please apply via the following links:
Privacy Policy and Personal Information Collection Statement
For data collected from or generated by applicants during their application to Postgraduate Studies at HKUST, the University pledges to be in compliance with the requirements of the Personal Data (Privacy) Ordinance of Hong Kong ("PDPO") and other applicable laws so that the privacy of your personal data is protected in accordance with the standard required by law. The information you provide will be maintained and used by the University for administrative and academic purposes consistent with the mission of the University. Data collected will be kept confidential, and they may be transferred to departments/ administrative offices within HKUST for processing and use. For access to personal data held by the University during the admissions process, please submit the completed request form to the Manager of the HKUST Fok Ying Tung Graduate School through the enquiry form. Request for personal data modification may also be sent through the enquiry form. For details of the Personal Information Collection Statement, please visit here. For further details on the University's Privacy Policy, please visit: https://hkust.edu.hk/privacy-policy.
Equal Opportunities Policy
The Hong Kong University of Science and Technology is committed to equal opportunities. Admission to the University is based on merit. No candidate will be discriminated against in any way or shall receive less favorable treatment or consideration on the ground of disability unless it would cause unjustifiable hardship on the University to provide accommodation or under other circumstances permitted by law. This policy applies to candidates with any of the disabilities as defined under the Disability Discrimination Ordinance.
Though not mandatory, the University encourages applicants with disabilities to provide the University with information about their disabilities at the time of application, so that the University can consider the needs of the applicants and make reasonable accommodations to the applicants. The University strives to provide all reasonable support to applicants with disabilities during the process of application and where admitted, throughout their studies at the University. Applicants are also encouraged to contact the HKUST Fok Ying Tung Graduate School to learn more about the services available to students with disabilities.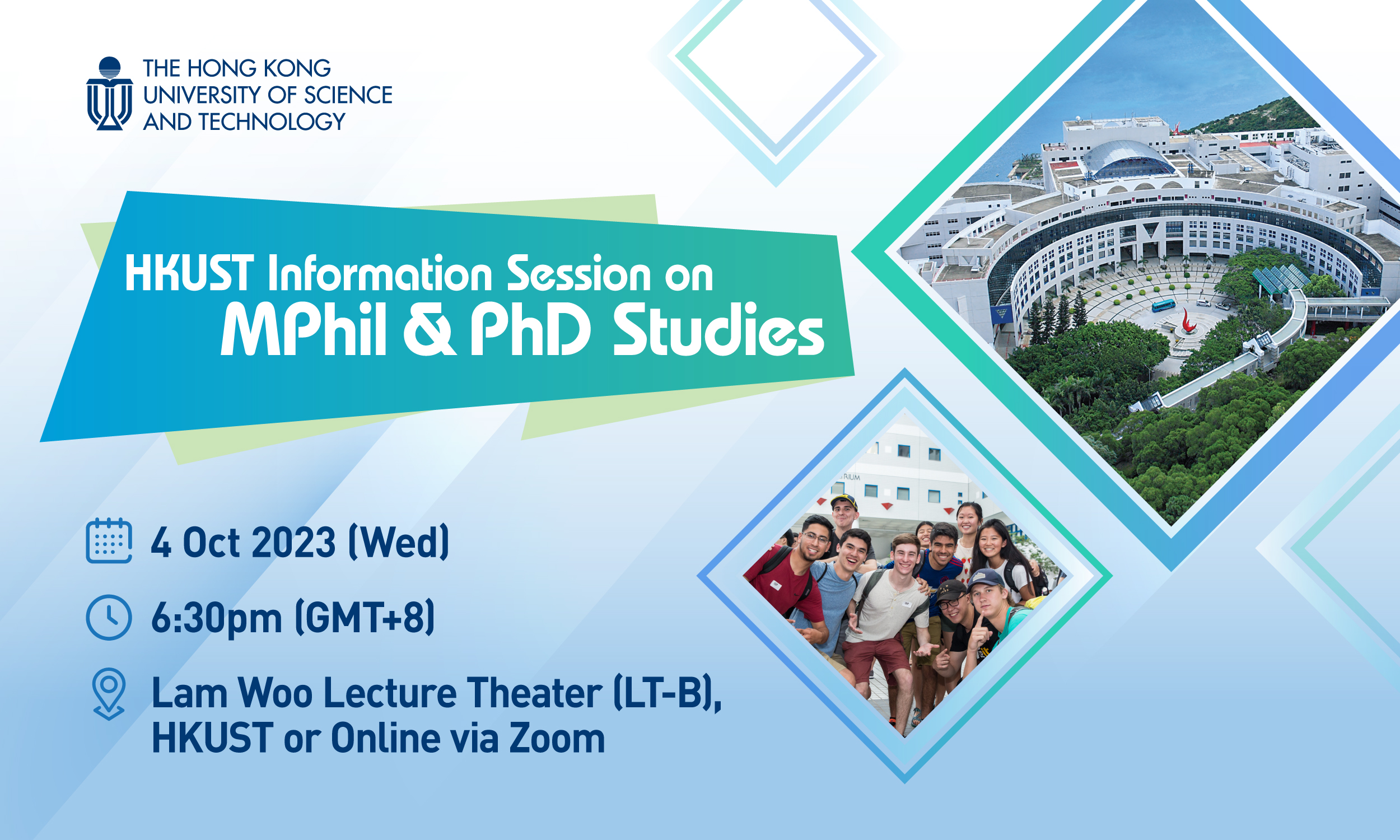 Join the HKUST Information Session on MPhil and PhD Studies to uncover valuable insights, useful study tips, and practical advice for your research postgraduate journey.